FINALLY.
A Sling Tag That Won't Come Off.
Everything you've counted on for a sling tag but now in a construction that won't come off the sling.
The Tube Tag is available in over-the-rope (OTR) and over-the-sleeve (OTS) versions and is totally captured on your sling.  The Tube Tag is the answer to downtime in the field and to sling tags coming off.  
Advantages of The Tube Tag
The Tube Tag is a revolutionary new type of sling tag that makes traditional tags obsolete. Some of the advantages include:
Won't come off your sling

Offers more room to add information on the tag

Makes end users happy

Allows rigging shops that were making their own to spend time making slings, not making tags

Is less expensive than home-made versions

Your customers will love them.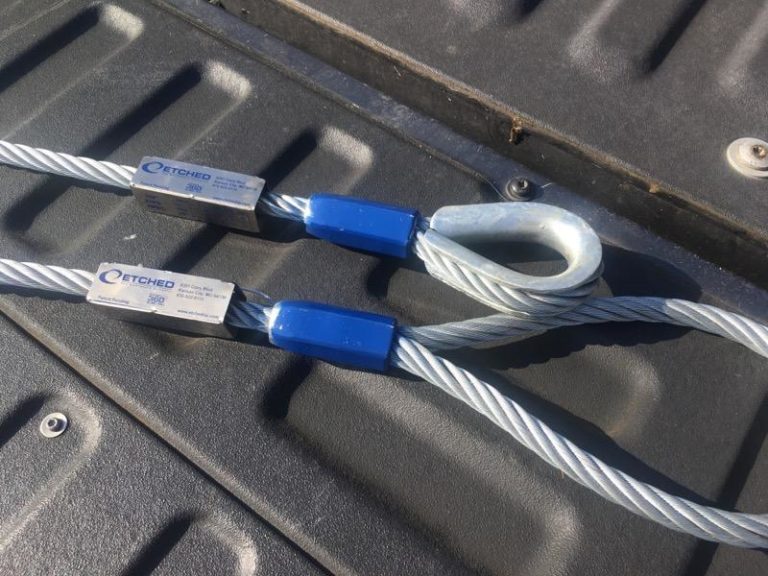 Where Can I Get The Tube Tag?
If you are a rigging shop, contact us to get The Tube Tag for your customers.
If you are an end user, contact us and we will help you find your nearest rigging shop that can help you with The Tube Tag.
It's an expensive tag, but it's cheaper than having a job site shut down because a sling is not properly tagged.
End User in Oklahoma
Simple and durable. The tag of the future.
Rigging Shop in Texas
Finally a sling tag that won't come off. This tag looks and functions much better than the homemade square tube tags.
End User in Construction Industry in Michigan
The Tube Tag helps us save our customers time and money. No more missing tags.
End User in the Oil and Gas Industry
We are always looking for partners that bring ideas that can help our company. The team at Etched works to bring solutions to the industry and The Tube Tag is yet another example of that. We love partnering with Etched.
Rigging Shop in South Texas
Our #1 customers' #1 complaint has been their tags coming off. The Tube Tag solves that problem and is what our customers have been looking for. Thanks Etched for helping us better serve our clients!
Rigging Shop in Michigan