If you work with lifting equipment in the construction or oil and gas industry, you have probably experienced the frustration of work delays caused by problems with slings. A problem that can shut down an entire site is when a tag becomes detached from a sling. This is a problem that has plagued slings since tagging was required.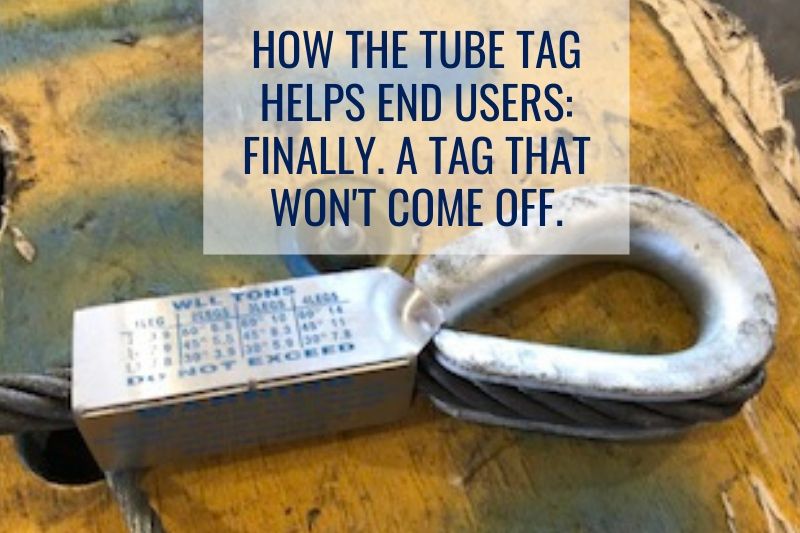 We at Etched have developed a solution to this ongoing, costly, and frustrating problem: The Tube Tag. The Tube Tag is a 4-sided tube that fully captures the metal rope of a sling so it cannot become detached from it. Unlike traditional 2-sided tags, which are connected to the sling by a clip or thin wire, The Tube Tag is connected to the sling in a fully secure fashion. So the days of halted productions and of frustration due to slings missing tags can be eliminated.
No longer will you have to assume that a traditional tag will eventually fall off. If you use The Tube Tag on your slings, you can rest assured that the tag will not come off.
Interested? You can find out more about The Tube Tag in two ways: you can always ask for Etched's The Tube Tag at your local rigging shop, or you can contact us directly so we can connect you with a rigging shop that carries The Tube Tag.
For more information, contact Justin Shelton at ETCHED | The Nameplate Company at 816-922-0115 or jushelton@etchednp.com.