Have your customers complained about tags falling off of their slings? Have you been using the same traditional sling tag for the last twenty years? Would you like a better tag solution that will not come off?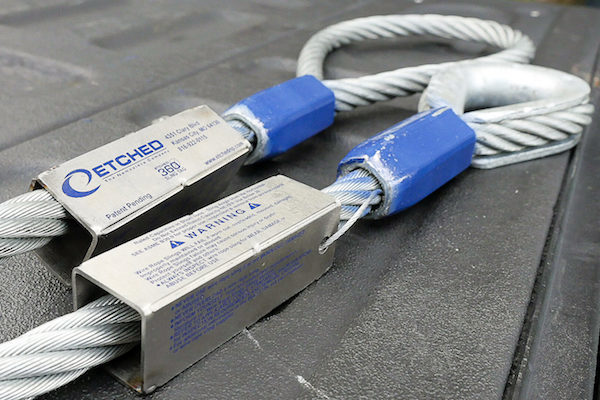 We have a better tag solution for you. The Tube Tag is a 4-sided tube that fully captures the metal rope of a sling so it cannot become detached from it. Important information about the product, including the company's logo, the lifting capacity of the equipment, and the product's safety regulations, can be printed on all four sides of The Tube Tag. Each of the The Tube Tags are customized to meet the client's specific needs and can be manufactured to accommodate any diameter of cable.
Your customers will see an immediate advantage to using The Tube Tag: no more wasted time while the sling has to be recertified. No more idle hours caused by tags becoming detached from slings–a waste of time and money, as well as the possibility of not meeting deadlines.
The fact that The Tube Tags are custom manufactured means they can be made to fit any size of sling, chain, or wire rope. They can be secured over the sleeve or over the rope, whatever best meets your clients' needs. With The Tube Tag, your clients can say goodbye to the wasted time of detached tags!
If you want to provide a better solution for your customers or are looking to gain an advantage over your competitors, contact us to discuss how The Tube Tags can be the solution to your customers' tagging problems.
For more information, contact Justin Shelton at ETCHED | The Nameplate Company at 816-922-0115 or jushelton@etchednp.com.